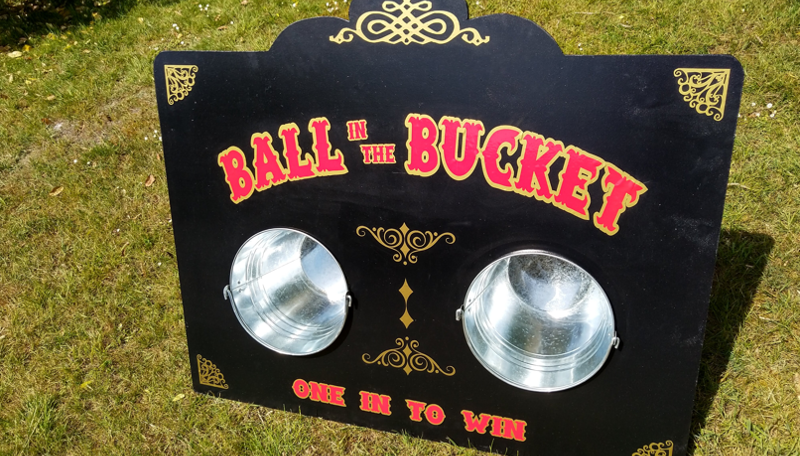 Ball in A Bucket Game is a traditional carnival and funfair game for many reasons. Its easy rules allows any age to have fun playing this game. At the same time, there is a level of advancement that can make it challenging enough to gain the attraction of a larger audience. Small children to adults will have fun playing this classic game and should be an essential game at any event.
The goal of the game is to throw one of the balls into one of the three targets available. It must stay in the goal for you to win the game. You receive a prize by keeping the balls in the bucket. What may seem like an easy task at first proves to be much harder than initially planned and can frustrate even the most skilled player. This is a game that children and adults come back to over and over, hoping to get a better chance to win. Practice does help, and people who have played several times may acquire the needed skills to win the coveted prize.
Carnival games are usually divided into two general categories, games of chance and games of skill. The Ball in A Bucket game is more of the latter. This makes it even more enticing because the players improve as they continue to play and have an incentive to play more than once. It also makes for an interesting game to watch, as people will gather around and give tips or try and take hints for when they have the chance to play themselves.
Ball in A Bucket Game is an excellent game to play at any event, as it can be set up both indoors and outdoors. It is quickly set up with one red and white striped stall, three target buckets, and five throwing balls. It will require some access space around it but can also be accommodated in tighter indoor spaces as well.
From fun days, private parties, to corporate and charity events, the Ball in A Bucket Game is appropriate for any audience. You cannot go wrong having it at your event. It not only helps loosen the mood, but will have people at your event engaging with each other, and laughing and having a good time. It is an excellent game to get people talking with each other in a relaxed setting. It is competitive enough so that everyone feels as if they should be winning the next round to keep the ball in the bucket. It will keep your guests entertained throughout your event.