MR CRAPPERS BOG ROLL BASKETBALL - AN ORIGINAL GAME BY US... ONE IN TO WIN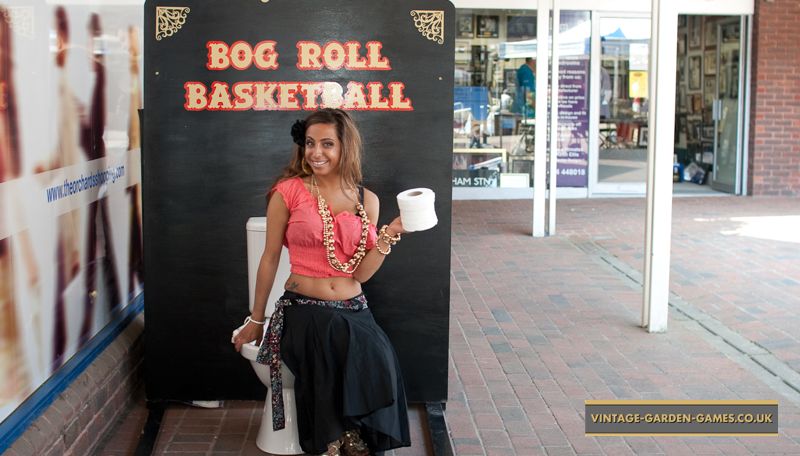 Bog Roll Basketball is a game you may not have heard of in the past but will have everyone fighting for a chance to play. It is precisely what the name suggests, and you will find yourself giving this stall and its players a second glance when you walk by at the event.
To play Bog Roll Basketball, you are handed three toilet rolls to start. In order to win a prize, you must be able to throw two out of the three rolls into the toilet. The game requires a little bit of skill, practice, and luck. It is similar to other funfair games based on the rules of throwing a ball through a target. However, it outdoes all of these stall variations with the slight humour added to the game.
The Bog Roll Basketball stall is uniquely designed and is Victorian styled with black, red and gold as the main colours. Adding to the fun-filled English humour, the stall is presented by the one and only Mr Crapper. This is a game that children and adults will find entertaining and will want to play multiple times. After all, throwing toilet rolls at a toilet is hardly appropriate in any other circumstance.
It can become quite addicting for both the player and the audience, and everyone will be in a great mood after a few rounds. It is an excellent way for guests to meet one another and engage with each other in an informal environment.
The stall can be conveniently set up for an indoor or outdoor event. It is the perfect choice for a fun day event, charity or corporate event, or even a wedding. You will have a hard time finding this opportunity to play Bog Roll Basketball at any other fun fair stall provider. Your guests will find this game to be unique and memorable, and it may just be the talk of the night for years to come.
Pick up the phone and give us a call on 07800 802751