ourdoor or indoor coconut shy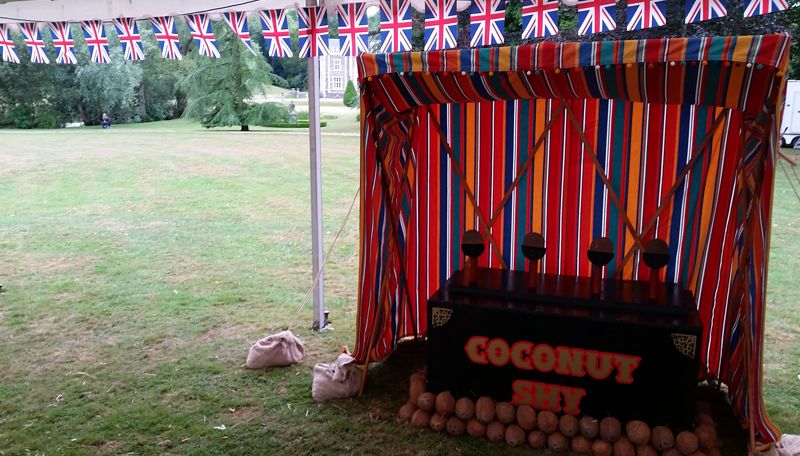 One of our most popular games...  if you are looking for coconut shy hire then look no further!
The Coconut Shy is a traditional funfair game that has been played for years since the late 1800s. It is a challenging, yet fun and exciting game for all ages to enjoy. We have also heard the game referred to as a cokernut shy, coconut shie and coconut shire! We're not sure if thats just bad spelling or regional differences!?
The origins of the game are unknown. It is rumoured that the game derives from "Aunt Sally", an earlier English throwing game that required players to throw objects at a model of a woman's head. The term 'Coconut Shy' was included in the Oxford English Dictionary as early as 1903. The word "shy" comes from the English term "to toss or to throw", which is exactly the point of the game.
The stall for Coconut Shy is set up by a row of coconuts that are balanced on posts. You play Coconut Shy by throwing wooden balls at the coconuts. The coconuts are often placed at different heights in order to add to the challenge. Each coconut that is successful dislodged counts as a prize. We have an indoor version when throwing hard wooden balls isnt suitable/safe. We have both a small indoor version which is great for hotels etc and also have an old fairground one which is full size and comes manned for larger events.
Traditionally, you would win the coconut as the prize. A coconut was seen as an exotic prize in the late 19th century when the game first began to gain popularity.
The Coconut Shy is the perfect stall to set up for all sorts of events. From vintage weddings, summer fetes, to staff fun days and corporate events, all ages and groups will have a good time playing The Coconut Shy. It can quickly be set up indoors or outdoors, and the colourful stall with red and white decorations will draw the attention of children and adults. Guests will have fun competing with each other to see how many targets they can knock off. The Coconut Shy will bring people to your event together, and all will be entertained.
Call text or email for more details 07800 802751