OUR VINTAGE CRAZY GOLF SET....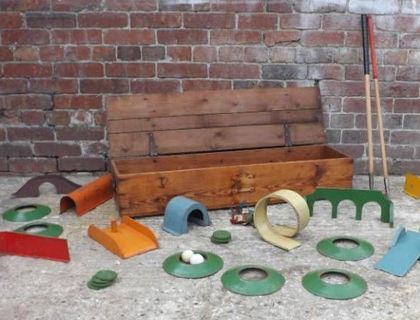 The original crazy golf! We have three of these sets and this is probably the last year we will hire them out. They almost belong in a museum!
What do you get?
An antique crazy golf set
What is the object of the game?
To get the lowest score after complting the course.
How to play – the basic rules.
Set up the 9 holes however you see fit..
Grab a puttter, a ball and scorecard and off you go.
Take note of your score as you work your way round the course.
How do I win?
By getting the lowest score at the end of the game
What size is it?
A decent sized lawn!
If you would like to hire any of our games call 07800 802751.