THE ULTIMATE PUTTING CHALLENGE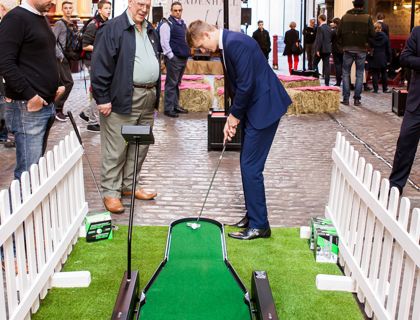 This really is the creme de la creme of golf putting machines. We imported this from America and we are pleased we did so - its amazing! It has 2 amateur and 2 pro courses each with 9 or 18 holes. It has a changable green which is all done electronically so no 2 holes are the same. Actuallly it has 72 different greens to putt on.
The machine allows for four players at any one time and has a fully automated scoring system and ball recovery, it tracks the ball at all times. If you score a hole in one you expect applause from this clever machine.
The machine comes with an operator who will set up your machine and run it for you. In some circumstances we can show you how to use the machine and leave you in charge. This is particularly useful if you have a three day trade show on or similar.
This machine is only suitable for indoor use or in a proper marquee i.e. not a gazebo
This is perfect for trade stands, golf nights, english theme events or an office party/incentive afternoon.
What do you get?
The putting machine and if you require it our surround as shown above.
What size is it?
Allow for a 2x3metre area. We will also need access to a 13amp plug point within about 10 metres. We can bring extension leads but please ask. We can fit this into an area as small as small as 1.8x1.6 metres if needs be.
If you would like to these or any other irems get in contact and call 07800 802751