WHO IS THE STRONGEST?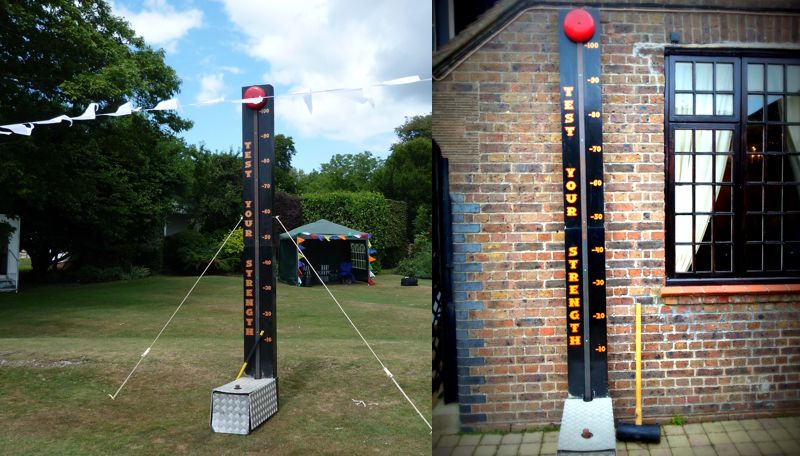 The High Striker is a popular game at carnivals and fun fairs for a real reason. It has been around since the beginning of fairgrounds and is often a staple stall to have at any event. You may have heard the phrases "Step right up!" or "Test your strength!" calling out for you to play. Bringing High Striker to your event will add to the party feeling and make for a fun time for everyone.
Also known as the strongman game the goal for High Striker is to ring the bell that is at the top of the tower. The game usually uses a lever with one end holding the puck and the other end is where you must strike with a hammer. If the player has enough strength to bring the puck high sufficient to reach the bell, they will win a prize.
Players will come to this stall to test their strength and see if they can ring the coveted bell. Stall operators play a role in daring people to come see how strong they may be. In the past, there have been workers who play tricks on the audience by rigging their machines. It became a show to see when even the strongest men could not ring the bell. Meanwhile, a small person could do it with one easy blow. The whole act brings the carnival spirit of fun and entertainment. However ours isn't rigged so we can't stitch up your boss I'm afraid!
This stall can be set up for an indoor or outdoor event and only requires a certain height to be able to play the game. It is an excellent game for adults of all ages. The strongman game is a humorous and silly game that will brighten up any event, whether this is at a funfair, a corporate or charity event, or a wedding. Your guests will thoroughly enjoy playing high striker and work on competing with each other to test their strength.
To hire a high striker call us on 07800 802751 for more details.