Wedding Fete Ideas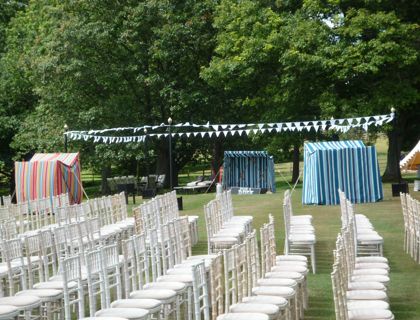 Are you planning a wedding fete?  Do you want a touch of the biohemian This is our ultimate package for those who want a real vintage fete at their wedding. picture this: all your guests turning up at you venue to see bunting fluttering in the breeze and a "wedding fete" waiting for them to play on. As guests approach your caterer would offer them a glass of Pimm's and we would offer them a stick of candyfloss or a bag of popcorn to eat whilst all the other guests arrive. They can then take their pick of stalls to play on. The stalls are popular with all ages and their appeal is timeless.
We can also supply hay bales for your guests to sit on complete with covers so they don't ruin their best dress/suit! We can create a perfect fete feel anywhere with our bunting stands, we also have a massive selection of bunting in a range of colours to suit any colour schemes you might have.
We would also supply a few of our garden games such as giant connect 4, Giant Jenga, quoits, noughts and crosses and our huge tug of war rope which would make for a great group shot!
Whilst the wedding breakfast takes place we would change everything over ready for evening guests perhaps putting up festoon lighting. We also have a photobooth which will match all our other items which we can setup in the evening for you for all you guests to play with. This can come in a number of themes or be adapted to suit your day best.
As an extra special treat for guests we could set up a couple of our rustic stalls filled with goodies. Choose from any of the following: Pick and mix stall, chocolate fountains, popcorn stall, chocolate heaven stall or our cheese stall with a range of local Sussex cheeses.
Our ultimate package would look something like this but can be tailored exactly to what you want.
Several fete stalls
Bunting stands
A selection of giant games
 Photo booth
 Cheese stall
Venues
Village halls
Barns
Traditional canvas marquee in a field
Farmers outbuildings
If you're prepared to phone around and do some research there are some amazing venues out there, particularly village halls if you're on a budget
Theming
Table centre piece could include wildflowers, recycled glass jars adorned in twine or hessian
Hay bales make great informal seating options.
Bunting
Floristry
Wildflowers
Flowers in jam jars or old quirky bottles
Vehicles
Brides arriving on the back of a Land rover defender would be pretty cool!
Perhaps a farmer with a trailer like you see at the Pick Your Own farms would be another idea
Food
food trucks
hog roast
Picnic – beg, borrow and steal hampers, combine this with some new picnic blankets to match your wedding day theme and off you go.
BBQ
afternoon tea – maybe use a local baker to help with this or outside caterers
cakes – cupcakes – cake stall – maybe you could be clever and get the cake stall populated with cakes from some of your guests with a bake off type competition and prize for the winner
Pimm's stall
Hot Dog Stall
Candy floss Stall – makes for great photos!
Ice cream van, traditional ice cream stall or trike
cheese, bread, biscuits and more cake in the evening
Music
Dj's with a vintage feel
Folk, gypsy jazz band
Games and entertainment
Fete games such as coconuts shy, tin can alley, hoopla
Lawn games – giant jenga and connect 4 are always well used.
Sports day races – think egg and spoon, sack racing, three legged race or maybe organise a Tug o War
Quirky games – welly wanging springs to mind
Competitions like guess the amount of sweets in the jar combined with your guest book might be quite nice
Circus workshop – a variety of circus workshop toys to play with and let guests show off their skills. Juggling, plate spinning, hula hooping, diabolo
This is just the start, I will be back to make this list evn bigger and better over the next couple of weeks.
Call us to book your perfect wedding with us! 07800 802751